CUSTODIA WEALTH MANAGEMENT
Custodia Wealth Management SA is authorized by the Swiss Financial Market Supervisory Authority FINMA to operate as an asset manager pursuant to Art. 2(1)(a) and Art. 5(1) of the Federal Law on Financial Institutions (FinIA) and is supervised by AOOS AG – Supervisory Body for Asset Managers and Trustees ("OV"), which is licensed and supervised by FINMA (Federal Law on Financial Institutions – FFI – and Federal Law on Market Supervision – FINMASA).
Our aim is to provide highly personalised financial services to meet the real needs of each client and achieve maximum efficiency in terms of costs, revenues, fees, goals and performance.
Unlike other companies, we operate with no conflict of interests as we do not manage financial products which we then place in clients' portfolios. Our investment choices are always made to protect (hence the name "Custodia") and increase the assets entrusted to us.
Custodia Wealth Management SA is also a member of the ASG – Swiss Association of Asset Managers.
Download the brochure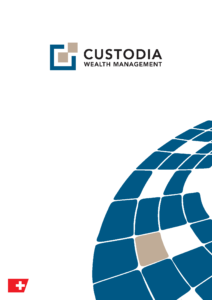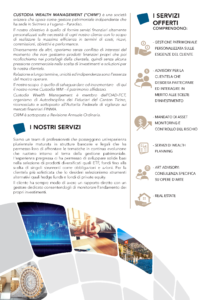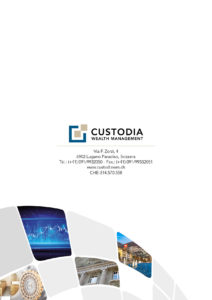 REQUEST ACCESS TO THE RESERVED AREA
To access the reserved area and view more content, send a request with the following fields filled in.